Partizan NIS stay perfect as they beat Split on the road
Thursday, 30. September 2021 at 16:29
Partizan NIS have scored their 2nd consecutive win in the 2021/22 AdmiralBet ABA League season after beating Split on the road in the opening game of Round 2.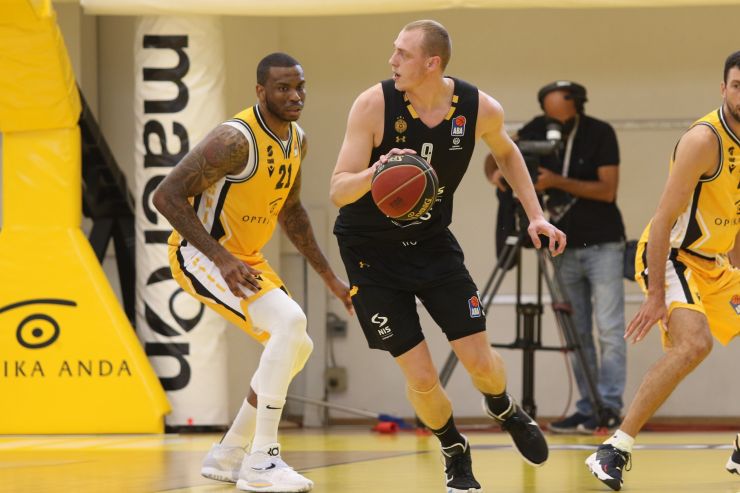 Alen Smailagic (Photo: Split/Ivica Cavka)
AdmiralBet ABA League Round 2, Thursday, 30 September 2021:
Split – PARTIZAN NIS 59:69 (15:17, 9:21, 19:15, 16:16)
Game recap: Partizan NIS will most certainly be very satisfied with the way they opened the 2021/22 AdmiralBet ABA League season as they scored two wins in two very difficult away games. After prevailing over Zadar in Round 1, the black-and-whites have now defeated Split in the opening game of Round 2.
Partizan NIS have been in front throughout the whole game, while most of the time they were up by a double-digit lead. The key period of the game was probably the 2nd quarter which the visitors won by 21:9.
While Partizan NIS have the perfect score of 2-0 after the opening two rounds, Split are still winless in the new season. Still, it must be mentioned that the famous Yellow crew has a very difficult schedule at the start of the new season and they played against Crvena zvezda mts and Partizan NIS, while in the next round they will face Budućnost VOLI.
Key moments: As we have previously mentioned, Partizan NIS gained the crucial lead during the 2nd quarter as they used the fact that Split had a very, very bas shooting night. The home team were 1/20 for 3 points in the first half.
Man of the match: Partizan NIS duo Zach LeDay and Alen Smailagić deserve to share this award as they dominated the paint today in Split. Both of them finished the match with a double-double performance. LeDay had 15 points and 11 rebounds, while Smailagić made 12 points and 13 rebounds.
Can't trick the stats: Split were 1/20 for 3 points in the first half, while at the end of the game they were 7/37 from behind the arc. That is just not good enough to beat a powerful opponent such is Partizan NIS.