MZT Skopje Aerodrom prevail over Mladost MaxBet
Tuesday, 12. October 2021 at 18:00
MZT Skopje Aerodrom have defeated Mladost MaxBet in a truly fantastic game.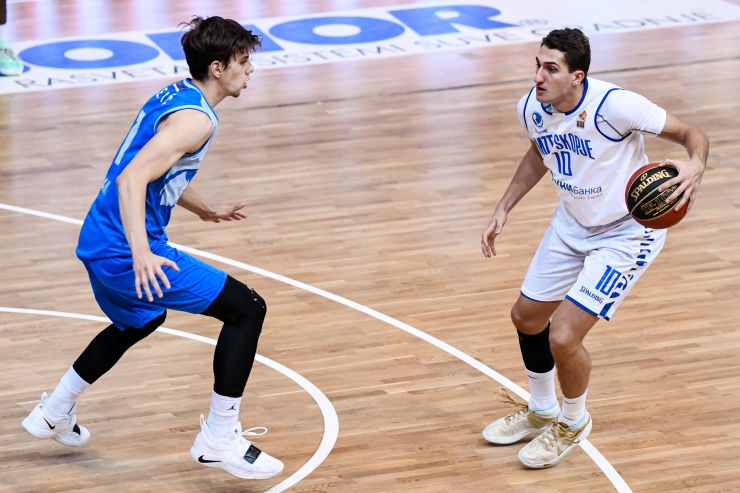 Adem Mekic (Photo: ABA League 2/Dragana Stjepanovic)
ABA League 2 Round 1, Tuesday, 12 October 2021:
MZT SKOPJE AERODROM - Mladost MaxBet 97:90 (28:26, 22:19, 23:24, 24:21)
One of the best games of the opening round of the 2021/22 ABA League 2 regular season was certainly the clash between MZT Skopje Aerodrom and Mladost MaxBet. At the end, it was MZT Skopje Aerodrom who prevailed and they did it mostly thanks to 3 of their players who put on truly amazing performance this evening in Zlatibor.
Damjan Robev was without any doubt the MVP of today's match. MZT's shooting guard scored 30 points, including 6 three-pointers, while his overall rating in his first ever ABA League 2 game was 32! The other two MZT's heroes were their two big guys Nemanja Milošević and Robert Rikić. Milošević finished this match with 20 points and 9 rebounds, while Rikić had 10 points and 9 rebounds.
And those rebounds really made the difference today. MZT Skopje Aerodrom made 41 rebounds in total, while on other side Mladost MaxBet made 27.
Mladost MaxBet's offense today was relying on Matija Belić who scored 23 points and Otis Livingstone who made 19 points, however that was not enough for the last season's semifinalists to win this match.