Igokea m:tel thinks of future – youngster Mihailo Bošković new Igokea m:tel player
Monday, 17. April 2023 at 16:32
Mihailo Bošković, 209 cm tall power forward, will reinforce Igokea m:tel senior squad.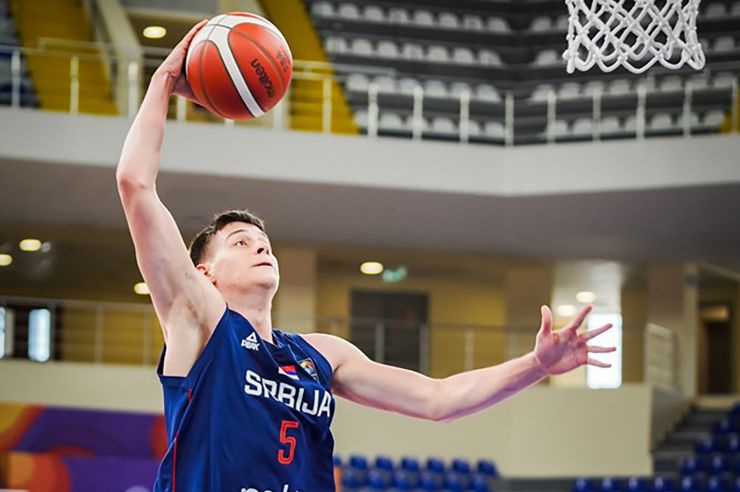 (Photo: FIBA)
Mihailo Bošković gained his first basketball experience at the Play Off Užice, from which he moved to Sloboda Užice. He later moved to Dynamic of Belgrade, where he spent 2 seasons.
He is a member of U20 Serbia National Team and at the 2022 European Championship Division B in Tbilisi he has been named MVP of the competition.
The big man has finished the championship with an average of 12.3 points, 6.6 rebounds, 2.1 assists and one block in 7 games played.
This can be considered as another move by Igokea m:tel management, that proves that the club believes in young players, that are expected to become the future of the regional basketball.
---------------------
Mihailo Bošković je postao igrač Igokea m:tel i u Laktaše dolazi iz beogradskog Dinamika.
Rođen 30.6.2002 godine u Užicu, a sa visinom od 209 cm će da pojača konkurenciju visokih igrača u Igokei m:tel.
Mihailo Bošković je svoje prvo košarkaško iskustvo sticao u užičkom klubu Plej-of, iz kog je prešao u Slobodu. Poslije dvije sezone u Slobodi, Mihailo se pridružio Dinamiku gdje je proveo 2 sezone.
Član je i reprezentacije Srbije do 20 godina, a prošle godine na Evropskom prvenstvu B divizije proglašen je za najkorisnijeg igrača takmičenja u Tbilisiju.
On je EP završio sa prosjekom od 12,3 poena, 6,6 skokova i 2,1 asistencije i jedne rampe na 7 utakmica.
Još jedan potez uprave Igokea m:tel koji dokazuje da vjeruje u mlade igrače koji bi trebali da budu budućnost regionalne košarke.