Koper Primorska scored maiden ABA win by beating Partizan NIS
Saturday, 12. October 2019 at 18:00
Koper Primorska have achieved their maiden ABA League win, as they have knocked down Partizan NIS at home in Bonifika Arena in Koper.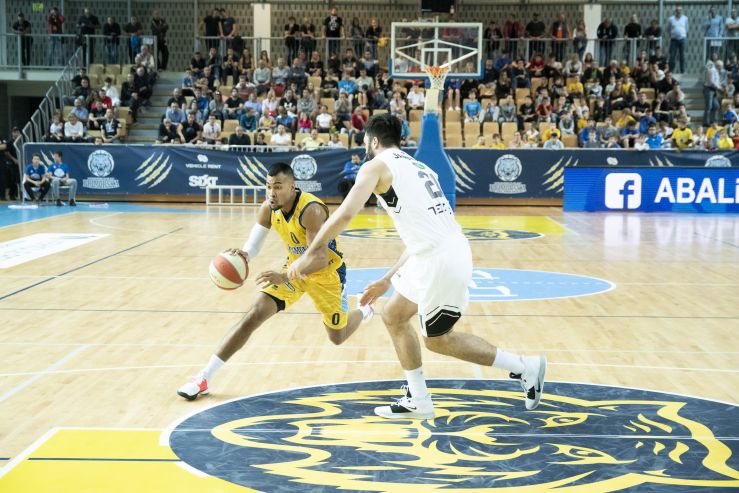 Stephen Holt (Photo: Koper Primorska/Ziga Mikeli)
ABA League Round 2, Saturday, 12.10.2019:
KOPER PRIMORSKA - Partizan NIS 68:56 (22:14, 14:14, 20:11, 12:17)
Game recap: It's celebration time for basketball fans in Koper, as their Koper Primorska have achieved their first ever ABA League win. And not just any kind of a win, as they have knocked down the 2019 ABA Super Cup winners Partizan NIS and got their revenge for the Super Cup defeat by the black and white squad. This way, the Tigers have bounced back perfectly, following their first round defeat by Crvena zvezda mts in Belgrade. On the other side, after the first round win on the road in Laktaši, Partizan NIS have suffered their first defeat of the ABA League season and the first defeat this season in general as well. The two sides will be continuing their ABA League seasons with 1:1 record after opening two rounds.
Key moments: Koper Primorska have opened the game much more successfully that Partizan NIS, and after a 9:0 run between fourth and eighth minute, they have turned their 13:9 advantage into a 13-point lead (22:9). Even though Partizan NIS fought back and threatened at certain points that they would get back into the game, they just did not manage to do so until the very end and the early run proved to be a decisive one for the outcome of the game.
Man of the match: Žan Mark Šiško shined for Koper Primorska, as he had 13 points, 9 assists, 3 steals, 2 rebounds and a valuation of 20 in 28 minutes spent on court. He is our man of the match!
Can't trick the stats: Koper Primorska have simply outrebounded Partizan NIS 38:27 and that was the key to this victory this time around.