Krka stun Crvena zvezda mts in Novo mesto
Sunday, 20. October 2019 at 17:58
The Green troops have defeated the reigning champions!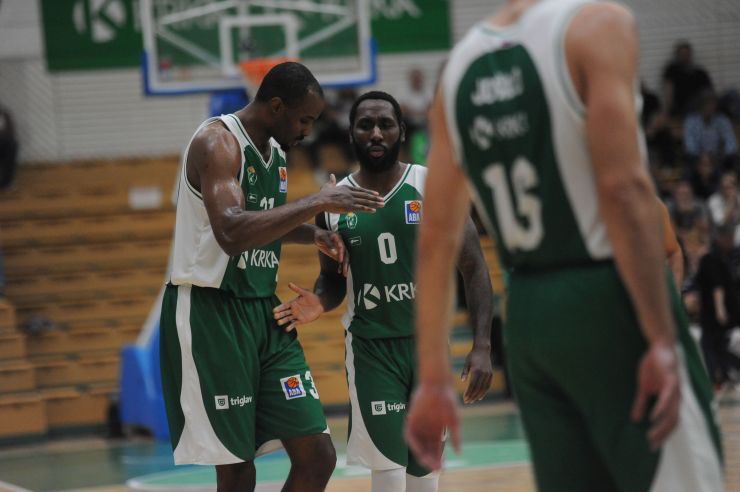 Glenn Cosey (Photo: Krka/Drago Perko/kosarka.si)
ABA League Round 3, Sunday, 20.10.2019:
KRKA - Crvena zvezda mts 79:77 (17:20, 20:25, 18:16, 24:16)
Game recap: Krka have done it! The Green troops have defeated the reigning ABA League champions at home court in Novo mesto! This was indeed a spectacular evening for Krka and their fans, as the home team scored no less than 13 three-pointers and managed to beat Crvena zvezda mts against all odds. Krka now have two wins out of the three rounds, while Crvena zvezda mts have scored just one single win so far in the season.
Key moments: We mentioned those 13 three-pointers made by Krka, but we did not tell you that 5 of them came in the 4th quarter! Krka's squad was just outstanding in the crucial moments, while it was Marko Jošilo who made the last two 3-point shots that brought the win to the home side. Jošilo firstly gave the lead to his team - 76:73, by scoring from downtown on 2 minutes before the end, while one minute later he nailed the second one for 79:75. By the way, Marko Jošilo was 4/4 from downtown this evening!
Man of the match: Although it was Marko Jošilo who scored those last two three-pointers, the MVP award definitely belongs to Krka's point guard Glenn Cosey. The 27-year old American scored 20 points in this game, including 6 three-pointers, while he also had 9 assists. And guess what? Cosey was the one who passed the ball to Jošilo before those two crucial three-pointers at the end of the match.
Can't trick the stats: Well, we mentioned this several times in this report, but we will say it once again - Krka scored 13 three-pointers.