Cibona grab their 1st win of the season against Zadar
Friday, 25. October 2019 at 20:00
Cibona are celebrating their first win of the ABA League season, which they have achieved in the sweetest possible way – by beating their arch rivals Zadar on the road in Krešimir Ćosić Arena in Zadar.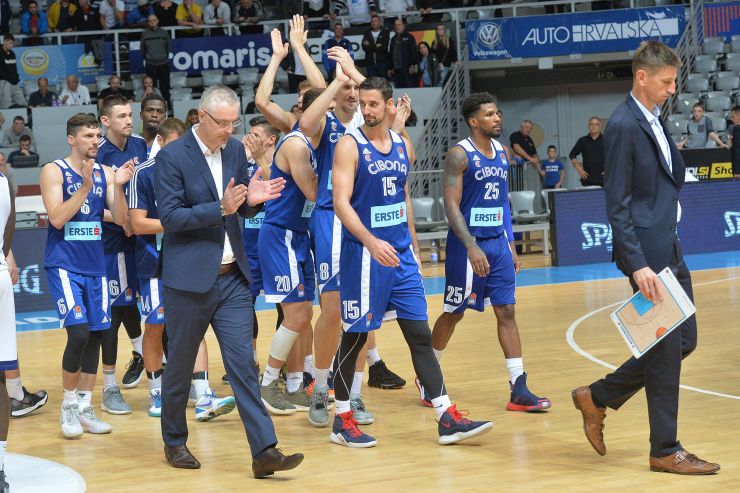 Cibona team (Photo: Zadar/Zvonko Kucelin)
ABA League Round 4, Friday, 25.10.2019:
Zadar - CIBONA 78:82 (22:20, 20:18, 17:17, 19:27)
Game recap: Cibona have many reasons to celebrate about after the fourth round game against Tadar. Not only have they achieved their first win of the season and escaped the bottom of the ABA League standings, but they have also done it on the road in front of their fanatic crowd of 4,000 Zadar fans against their arch rivals of Dalmatia. The Zagreb squad have this way escaped the bottom of the standings, where now Zadar stand alone, together with Igokea. But the team of Laktaši still have their fourth round game to play.
Key moments: Zadar have been slightly in front for the majority of the game, but they did not managed to pull away decisively at any point. Only five seconds before the start of the last minute, Shane Gibson took Cibona in front 76:75. However, as it turned out, it has been only the beginning of the 8:0 run, with 6 points scored by Shane Gibson, of the guests within the final minute. A decisive run!
Man of the match: Shane Gibson was the one to shine for Cibona this time. He hasn't only scored 6 out of 8 decisive Cibona's points in the final minute, but has also led the team in scoring with 22 points on his record, alongside 4 rebounds, 3 assists, 1 steal and a valuation of 23 in 30 minutes spent on court. He is our man of the match!
Can't trick the stats: Of course there haven't been any major differences between the two teams in the stats, given the tight score in the end, but Zadar has made no less than 23 turnovers this time! More than too many to win a derby game at the ABA League level.