Zvezda clinch another win against Mega
Sunday, 27. October 2019 at 16:59
Crvena zvezda mts have returned on the winning path after beating Mega Bemax in Round 4 of the 2019/20 ABA regular season.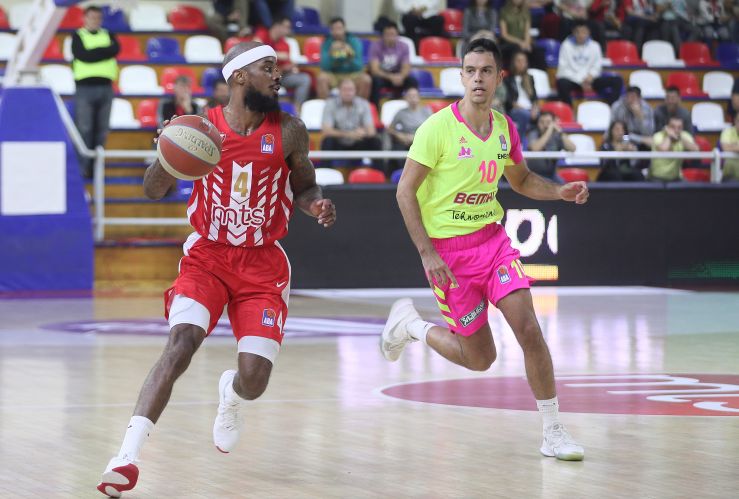 Lorenzo Brown (Photo: Crvena zvezda mts)
ABA League Round 4, Sunday, 27.10.2019:
CRVENA ZVEZDA MTS - Mega Bemax 88:70 (22:19, 22:21, 30:15, 14:15)
Game recap: Crvena zvezda mts scored their 16th consecutive win in the games against Mega Bemax in ABA League. The red & whites have therefore returned on the winning path after losing the previous two games in the championship, while Mega Bemax have suffered their 3rd defeat in the previous 4 rounds.
What is also important to mention is that Crvena zvezda mts center Ognjen Kuzmić played his first game in ABA League after recovering from serious injuries. He had 7 points and 5 rebounds in today's match.
Key moments: Mega Bemax was a worthy rival to Crvena zvezda mts in the first half, after which the red & whites were up by just 4 points – 44:40. Unfortunately for the visitors, the red & whites were just brilliant in the 3rd quarter which they won by 30:15 and therefore gained the crucial lead.
Man of the match: James Gist means so much to this team of Crvena zvezda mts. His experience and quality have once again made the difference down on the court, as he scored 14 points and made 10 rebounds.
Can't trick the stats: Just take a look at this – Crvena zvezda mts made 16 offensive rebounds this evening! 16! On the other side, Mega Bemax made just 3.