Budućnost VOLI stay at the top after beating Cibona
Saturday, 09. November 2019 at 20:00
In the second game of the day, Budućnost VOLI are currently hosting Cibona in Morača Sports Hall, Podgorica. Follow live play by play on our website.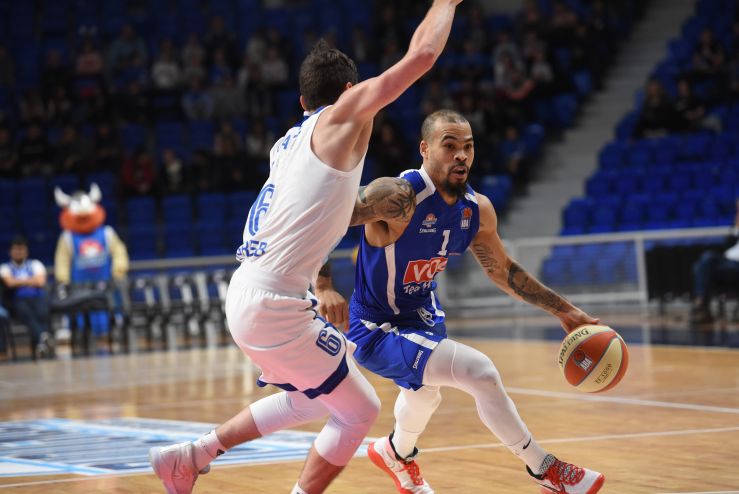 Justin Cobbs (Photo: Buducnost VOLI)
ABA League Round 6, Saturday, 9.11.2019:
BUDUĆNOST VOLI - Cibona 87:64 (26:18, 25:8, 18:21, 18:17)
Game recap: The ABA League season is going just in accordance with the plans for Budućnost VOLI, as they are continuing the season at the top of the standings even after six rounds, as they have beaten Cibona at home in Morača Sports Hall in Podgorica and grabbed their fifth win of the season in six rounds. On the other side, Cibona will continue their struggle in order to escape the danger zone at the bottom of the standings, since they hold one triumph in their hands after six rounds played so far.
Key moments: Already in the opening quarter Budućnost VOLI have done the majority of their job, as they have pulled away to a double-digit lead after nine minutes, when they were up 25:14 after a 12:0 run between fourth and ninth minute of the game. Cibona have never managed to recover from falling behind by 11 so early until the end of the game.
Man of the match: Hassan Martin of Budućnost VOLI had an exceptional performance this time around, as he had 16 points, 9 rebounds, 1 assist, 1 block and a valuation of 25. He is rightfully our man of the match!
Can't trick the stats: Budućnost VOLI have outrebounded Cibona 35:24 and with that having in mind, we are aware that the guest simply did not stand a chance to score a win this time.