Nikola Ivanović shines as Budućnost VOLI beat Igokea on the road
Saturday, 16. November 2019 at 16:58
The 25-year old point guard guided the Blue team toward a valuable win in Laktaši.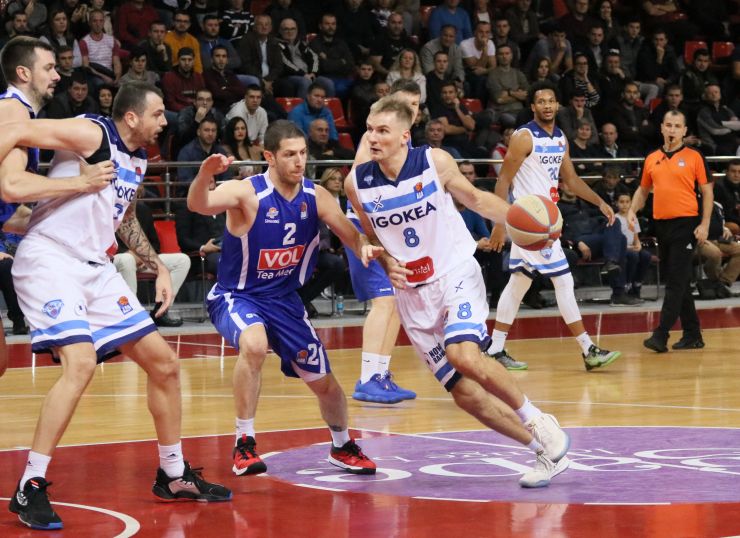 Vaidas Kariniauskas (Photo: Igokea/Nikola Vuruna)
ABA League Round 7, Saturday, 16.11.2019:
Igokea – BUDUĆNOST VOLI 72:83 (20:19, 22:26, 16:14, 14:24)
Game recap: Budućnost VOLI are coming back from a tough road game in Laktaši with a big win in their bags. The ABA League vice-champions defeated Igokea after a big battle down on the court, breaking the resistance of their hosts in the final 10 minuters. Budućnost VOLI won the 4th quarter by 24:14 and grabbed the precious win.
Budućnost VOLI now have the overall score of 6-1, while Igokea are at 1-6.
Key moments: As we wrote above, Budućnost VOLI gained the crucial lead in the 4th quarter. Nikola Ivanović made some big shots from downtown in this period, which helped the visiting side escape on a safe distance.
Man of the match: There is no doubt here. The man of the match award belongs to Budućnost VOLI point guard Nikola Ivanović! He scored 18 points, including the 3 three-pointers in the 4th quarter, while his overall index rating was 27.
Can't trick the stats: The three-pointers made the difference this evening in Laktaši. Budućnost VOLI made 12 shots from downtown, while Igokea scored just 5.