Big road win for Cibona over Mega Bemax
Sunday, 24. November 2019 at 11:59
In the opening game of the Sunday ABA League programme, Cibona have beaten Mega Bemax and this win takes them safely away from the danger zone near the very bottom of the ABA League standings, towards the middle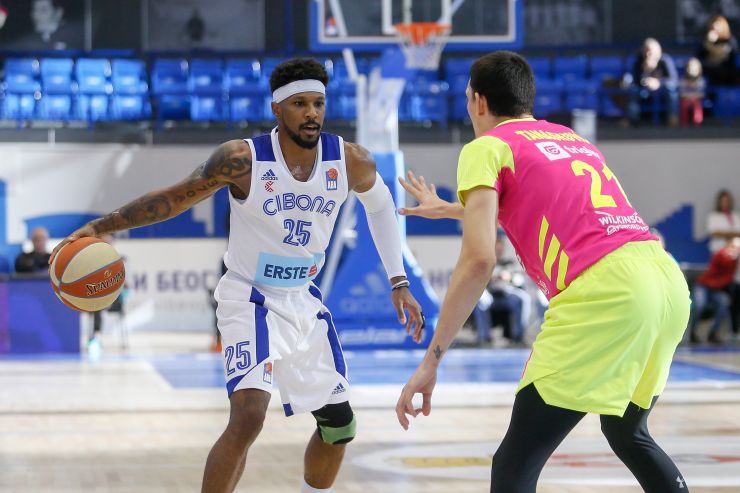 Shane Gibson (Photo: Mega Bemax/Ivica Veselinov)
ABA League Round 8, Sunday, 24.11.2019:
Mega Bemax - CIBONA 72:76 (20:20, 22:13, 15:27, 15:16)
Game recap: In the Sunday's ABA League matinee, Cibona have beaten Mega Bemax in the derby of the lower part of the ABA League standings and it have been Cibona's players that have been leaving the court at the end of the clash with their heads up, as they have managed to get away with a valuable win – their third of the season, which puts them safely away from the danger zone near the bottom of the ABA League standings, three wins above the last placed Zadar and they are now placed in the middle of the table. Mega Bemax will continue to struggle in order to escape the danger zone, as they continue the season with only one win on their record after eight rounds and they still have lots of work to do in order to achive it.
Key moments: Cibona's 7:0 run in crucial moments between 3:30 remaining on the clock and 0:18 remaining on the clock is what decided the outcome of the game. With three and a half remaining, Mega Bemax have been in front by 69:67, but then Filip Bundović scored 4 consecutive points to bring Cibona up 71:69 with a bit more than 2 minutes remaining in the game. Mega Bemax did not manage to score for the next 2 minutes and Shane Gibson and Toni Katić scored 3 free throws to seal the win for the visiting side with 18 seconds left and their 74:69 lead. The hunt for the victory was over at this point.
Man of the match: Filip Bundović was Cibona's hero, as he led them to the victory not only with crucial four points, but also by scoring 9 points in the final quarter and leading his cibona in scoring throughout the game with 26 points, while adding 9 rebounds, 2 assists, 1 block and a valuation of 34 to his stats. He is our man of the match!
Can't trick the stats: Of course there haven't been major differences in most of the statistical categories, having in mind the final score of the game, but Cibona have been shooting better from the field than Mega Bemax. They hit 41.2% of their field goal attempts and Mega Bemax scored 34.3%. That's what turned the game their way.