Mornar stronger than Mega Bemax
Saturday, 14. December 2019 at 18:00
In the opening game of the ABA League Round 11, Mornar have prevailed over Mega Bemax at home in Topolica Sports Hall, Bar.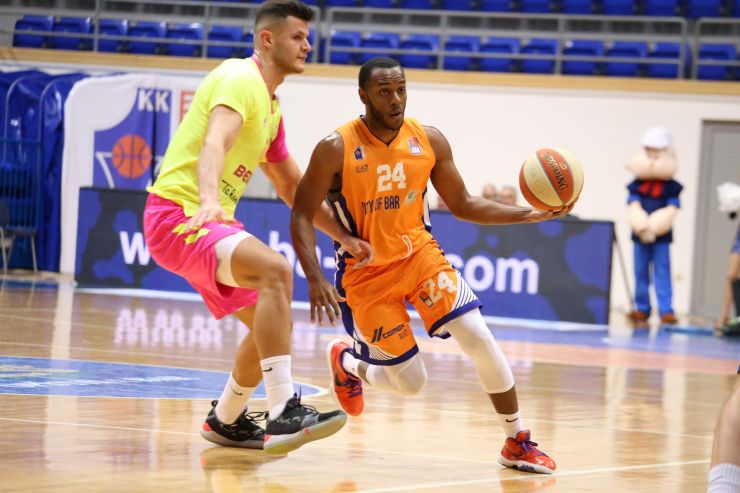 Antabia Waller (Photo: Mornar/Media Pro)
ABA League Round 11, Saturday, 14.12.2019:
MORNAR - Mega Bemax 85:68 (30:15, 24:21, 14:15, 17:17)
Game recap: Mornar have ended the first half of the regular season with a positive record of six victories and five defeats, after they have convincingly outgunned Mega Bemax in the opening game of the 11th round of the ABA League season at home in Topolica Sports Hall, Bar. This win puts Mornar back in the Playoffs race and they have all options still open ahead of the remainder of the season. On the other side, Mega Bemax will continue their struggle to avoid the danger zone near the very bottom of the ABA League standings, as they have 2 victories on their record after 11 rounds of the season are over.
We should mention a great achievement by Mornar big man Uroš Luković who made no less than 7 blocks in the game, which means that he has tied the regional competition's all-time single game blocking record. The other players that have made 7 blocks in a single ABA League game so far are Zoran Nikolić, Shawn James, Slavko Vraneš and Smiljan Pavić.
Key moments: Mornar have got away with a victory thanks to their monstrous first quarter performance, when they have nailed in 30 points (no less than 6 three-pointers), while allowing only 15 to their opponents. After a 15-point deficit early in the game, Mega Bemax did not manage to threaten Mornar's win until the end of the clash.
Man of the match: Damir Markota led the way for Mornar towards the victory with 22 points (8/10 from the field), 8 rebounds, 1 assist, 1 steal and a valuation of 28 in 22 minutes spent on court. He is rightfully our man of the match!
Can't trick the stats: Mornar were shooting from the field 46.8% and Mega Bemax only 33.8%. That's what determined the flow of the game!