Cedevita Olimpija beat Mega Beamax after two overtimes
Saturday, 21. December 2019 at 17:00
Cedevita Olimpija have beaten Mega Bemax in Tivoli Hall after two overtimes and stay firmly placed in the Playoffs zone.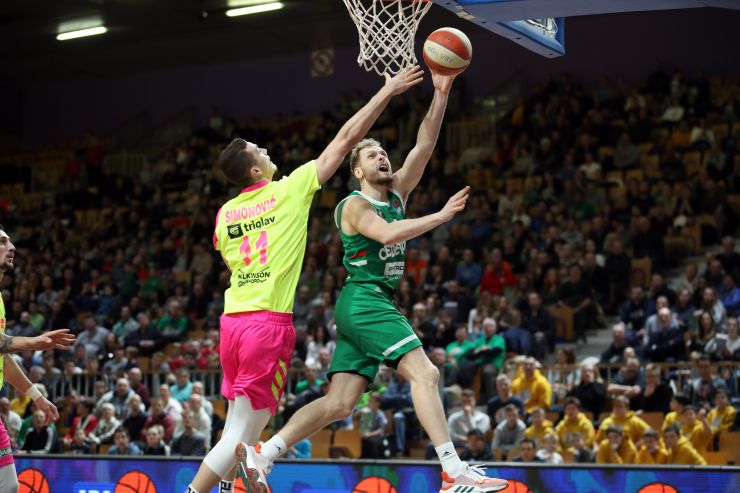 Jaka Blazic (Photo: Cedevita Olimpija/Ales Fevzer)
ABA League Round 12, Saturday, 20.12.2019:
CEDEVITA OLIMPIJA - Mega Bemax 112:102 (21:15, 21:33, 23:23, 22:16, 10:10, 15:5)
Game recap: What a game in the legendary Tivoli Hall! Cedevita Olimpija stay firmly seated in the Playoffs zone after they have defeated Mega Bemax for the second time this season after two overtimes in excellent atmosphere. This is the ninth win of the season, which keeps the Dragons at least at the second place after 12 rounds. On the other side, Mega Bemax continue to struggle in order to escape the danger zone at the bottom of the standings, as they hold 2 wins after 12 rounds.
Key moments: It seemed like Cedevita Olimpija would celebrate a win already after the 40 minutes of the clash, as Jaka Blažič scored in the final second to take his team up 87:85. However, with only 0.4 second left in the game, Marko Simonović scored from an alley-oop, to take the teams into overtime.
In the second overtime it seemed like Mega Bemax would get away with a win, but Jaka Blažič scored a buzzer-beating 3-pointer in order to force overtime number two.
In the second overtime, the Dragons have prevailed with the final score of 112:102, as they dominated the court in this period of the game.
Man of the match: Jaka Blažič hasn't just scored the two crucial shots, that led the way for his team to two overtimes, but has also lead the Dragons in scoring with 33 points, while contributing 9 rebounds, 6 assists, 2 steals and a fantastic valuation of 48, which is his scoring and index career high! He is our man of the match!
Can't trick the stats: In the end, Cedevita Olimpija have been slightly better than Mega Bemax in field goal percentage, rebounding and assists, which took them to the win in the end.