Partizan NIS storm past Zadar
Saturday, 25. January 2020 at 19:59
The black & whites scored their 9th consecutive win in the 2019/20 ABA League regular season.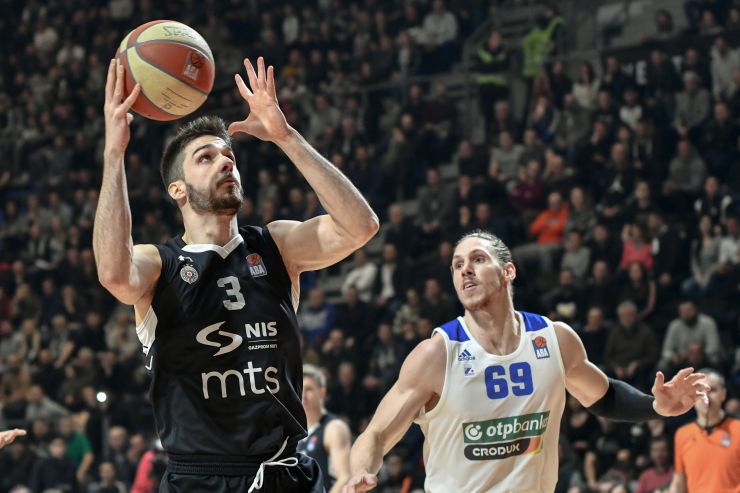 Rade Zagorac (Photo: Partizan NIS)
ABA League Round 17, Saturday, 25.1.2020:
PARTIZAN NIS - Zadar 87:60 (12:13, 31:13, 18:18, 26:16)
Game recap: Partizan NIS have extended their winning run in the ABA League as they easily prevailed over Zadar in Belgrade in Round 17 of the 2019/20 regular season. Only the 1st quarter was close in this match and Zadar even had a 1-point lead at the end of it, however everything after that was something the visitors will try to forget as soon as possible. Partizan NIS have been dominating the court from the start of the 2nd quarter all the way until the end of the match and the black & whites eventually seized a well-deserved win.
This was the 9th consecutive win for Partizan NIS in the 2019/20 ABA League regular season and the Belgrade troops will remain all alone at the top of the standings for at least another week.
Key moments: After the opening quarter the score was 13:12 for Zadar. The visitors scored 13 points in the 2nd quarter as well, but on the other side Partizan NIS made 31 points in that period and gained the crucial lead – 43:26.
Man of the match: James McAdoo is slowly showing that he is going to be a big reinforcement for this Partizan NIS team. The American center scored 13 points tonight, while he also had 5 rebounds. His overall index rating was 20.
Can't trick the stats: This was one of the worst shooting nights Zadar have ever had in the regional league. The visitors made 26 attempts for 3 points… They made just 1!