Mornar prevailed over Partizan NIS in overtime thriller
Saturday, 05. December 2020 at 19:00
Currently, Mornar are hosting Partizan NIS. Follow live play by play on our website.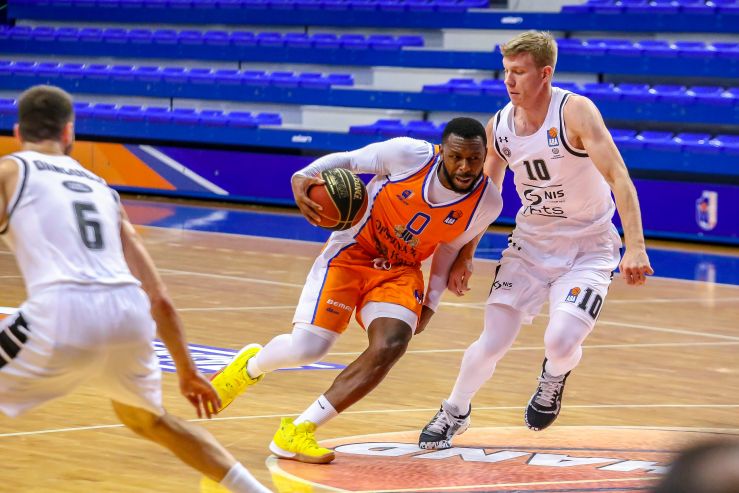 Jacob Pullen (Photo: Mornar/Media Pro)
ABA League Round 9, Saturday, 5 December 2020:
MORNAR - Partizan NIS 77:76 (15:22, 18:17, 21:12, 16:19 7:6)
Game recap: At home in Topolica Sports Hall in Bar, Mornar have grabbed an important derby win after an overtime over Partizan NIS and stay in the battle for the top of the ABA League standings. It has been a game with many ups and downs for both sides and in the end, the hosts came up lucky and snatched their 7th win of the season. With only one defeat on their record after eight games played, they are still in the race for the top of the ABA League standings at the moment. On the other side, Partizan NIS continue their struggle to return to their desired path, as they have suffered their 5th defeat in their 9 games played so far and will be placed in the middle of the standings after 9 rounds played.
Key moments: While the game could have gone either way both in its regular part and in overtime, it was definitely Isaiah Whitehead, that became the home team's hero, as he scored the game-winning lay-up with 23 seconds remaining in the overtime, that took his team up 77:76. Partizan NIS did not manage to score anymore and it turned out that this was the crucial moment of the clash.
Man of the match: Of course, our key player of the game is Isaiah Whitehead. Not only because of the crucial game-winning points, but also due to the fact that he has been statistically the most efficient player of the Mornar squad in this game. He had 16 points, 6 rebounds, 4 assists, 3 steals and a valuation of 17. He is our man of the match!
Can't trick the stats: As the final score suggests, the teams have been similar in all statistical categories. However, Mornar have been more accurate from the free-throw line, where Partizan NIS had only a 64% efficiency and that's what turned the flow of the game their way.