Mega Soccerbet stronger than Zadar in Višnjik
Sunday, 17. January 2021 at 17:00
On the road in Krešimir Ćosić Arena in Zadar, Mega Soccerbet have outgunned Zadar, grabbed their 10th win of the season and they remain in the Playoffs race.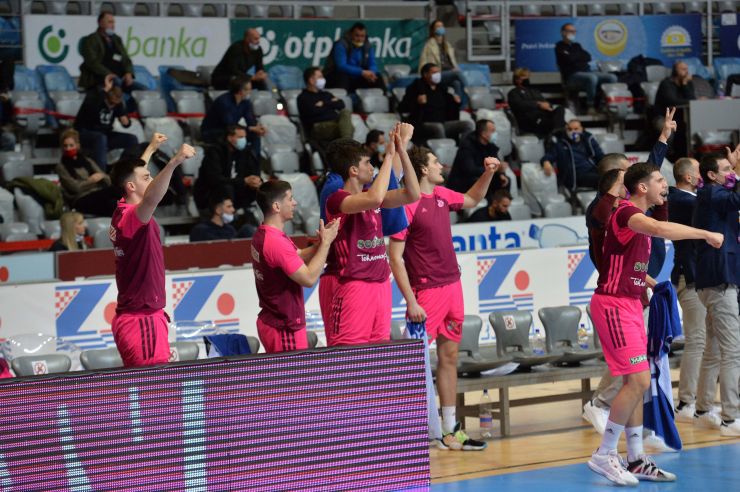 Mega Soccerbet team (Photo: Zadar/Zvonko Kucelin)
ABA League Round 15, Sunday, 17 January 2021:
Zadar - MEGA SOCCERBET 83:90 (21:21, 19:20, 21:25, 22:24)
Game recap: On the road in Krešimir Ćosić Arena in Zadar, Mega Soccerbet, on the wings of twin towers Filip Petrušev who set the season's ABA League single game individual valuation record with index rating of 41 and Marko Simonović, have triumphed over the home side and grabbed their 10th triumph of the ABA League season. This way, alongside 5 defeats on their record, the Belgrade squad are remaining in the Playoffs race with 11 rounds still to be played this season. On the other side, this is the 9th defeat for Zadar, which have won only 2 games so far, the least amongs all teams, not counting disqualified Koper Primorska. They still have lots of work to do in order to escape the danger zone at the very bottom of the ABA League standings.
Key moments: With a bit less than 6 minutes left on the game clock, Zadar have still been ahead (70:69), but an 11:2 run followed by Mega Soccerbet over the next 2 and a half minutes for which Marko Simonović contributed 8 points (two 3-pointers). With 4 minutes left in the game, Mega were up 72:80 and Zadar did not manage to bounce back again until the very end.
Man of the match: Even though Marko Simonović contributed the large amount of points for the crucial run for his team, we cannot overlook the fantastic contribution of Filip Petrušev. The big man had 32 points, 9 rebounds, 4 assists and a season-high valuation of 41 in 32 minutes spent on court. He is truly rightfully our man of the match!
Can't trick the stats: Mega Soccerbet have won the rebounding battle 34:23 and with no less than 15 offensive rebounds grabbed it is clear that this was the key to their win this time in Višnjik!