Mornar stronger than Krka
Friday, 26. February 2021 at 18:00
In the opening game of the ABA League Round 19, Mornar have prevailed over Krka and grabbed their 14th triumph of the season.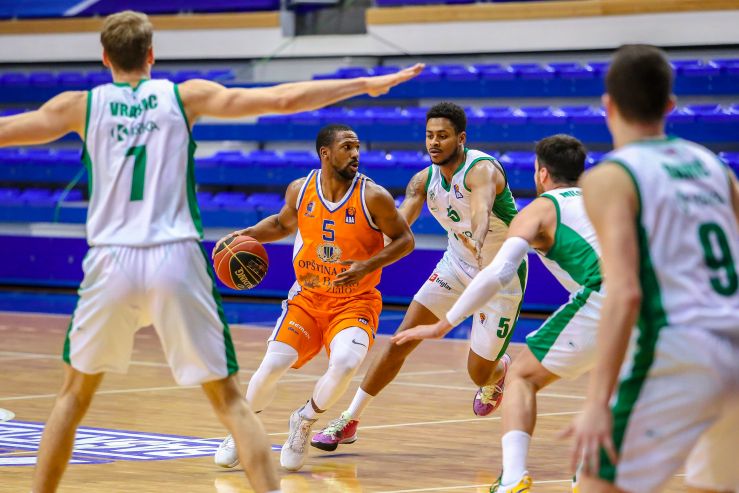 Derek Needham (Photo: Mornar/Media Pro)
ABA League Round 19, Friday, 26 February 2021:
MORNAR - Krka 80:61 (28:18, 17:17, 17:6, 18:20)
Game recap: In the opening game of the ABA League Round 19, Mornar have prevailed over Krka. Mornar are keeping up with their strong performances this season and by beating Krka in the Round 19 opener, they have grabbed their 14th win of the regional league season, which keeps them in the Playoffs race, as they still have only 4 defeats on their record. On the other side, Krka have suffered their 12th defeat and with only 5 wins collected so far, they still have a lot of struggle ahead of them in order to avoid the danger zone, as only Borac have won less than them (4) so far.
It's worth mentioning that Mornar player Nemanja Gordić has, by scoring 9 points in the game against Krka, become the first player to score 3000 points in the regional league history. He now has 3005 points scored so far and is the all-time leading scorer of the ABA League.
Key moments: The outcome of the game was more or less decided in the opening 5 minutes of the game in Topolica, as Mornar have demonstrated fantastic defense and left Krka scoreless. With 13:0 lead after 5 minutes it became clear that a comeback would be difficult for Krka. As it turned out later, it really was impossible.
Man of the match: Sead Šehović was the best player of Mornar this time around, as he contributed 16 points, 5 rebounds, 1 assist and block each and a valuation of 15. He is our man of the match!
Can't trick the stats: Mornar have outrebounded Krka 44:32 and this pushed them towards the win this time.