Zlatibor prevail over MZT Skopje Aerodrom in overtime thriller to win the 2021/22 NLB ABA League 2 championship
Sunday, 17. April 2022 at 22:25
Zlatibor have won the 2022 NLB ABA League 2 championship!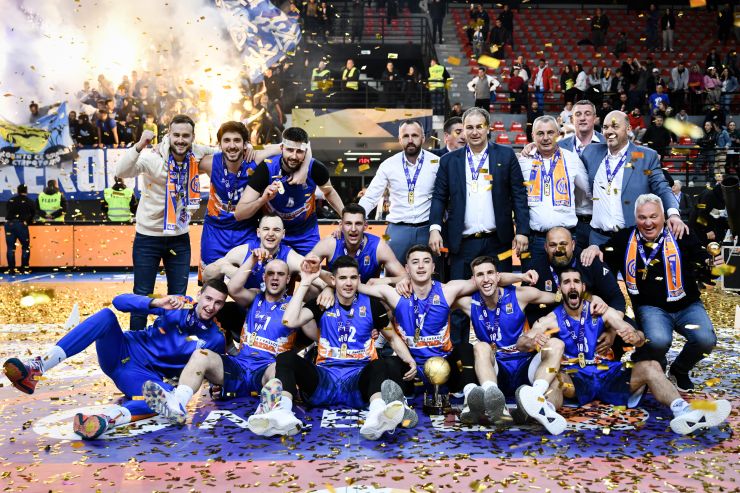 (Photo: ABA League j.t.d./Dragana Stjepanovic)
NLB ABA League 2 Final, Sunday, 17 April 2022:
MZT Skopje Aerodrom - ZLATIBOR 73:78 (11:31, 25:19, 16:10, 20:12, 1:6)
What a way to finish the season! Zlatibor have prevailed over MZT Skopje Aerodrom in overtime to win the 2021/22 NLB ABA League 2 championship!
It was most certainly one of the most thrilling finals ever seen in NLB ABA League 2. Zlatibor made a flying start as they gained a 20-point lead already in the opening quarter – 31:11. But, MZT Skopje Aerodrom did not even consider to surrender. The hosts of the final tournament used the help of their fans to get back on their feet and bit by bit they started melting the gap.
And in the 4th quarter, MZT Skopje Aerodrom took over the lead! The home side were up by 2 points – 72:70, with less than 1 minute remaining in the 4th quarter, but then Zlatibor's hero from tonight's game Dušan Kutlešić made a very difficult 2-point shot to tie the score – 72:72. In the very last second of the 4th period, MZT Skopje Aerodrom had a big chance to win the match, however Adem Mekić missed a lay-up and the game went into overtime.
In the additional 5 minutes, Zlatibor managed to completely stop MZT Skopje Aerodrom offense. Zlatibor conceded just 1 single point in overtime and they won this big battle by 78:73.
Dušan Kutlešić was by far the best player of this Final. Zlatibor local hero scored 33 points and made 10 rebounds, while his overall index rating was 39. Kutlešić eventually received the award for the MVP of the 2021/22 NLB ABA League 2 Playoffs.