Partizan NIS beat Zadar on the road
Saturday, 09. November 2019 at 18:00
On Saturday night Partizan NIS have beaten Zadar on the road in Krešimir Ćosić Arena in Zadar and have grabbed their fourth win of the ABA League season, while Zadar keep waiting for their first triumph.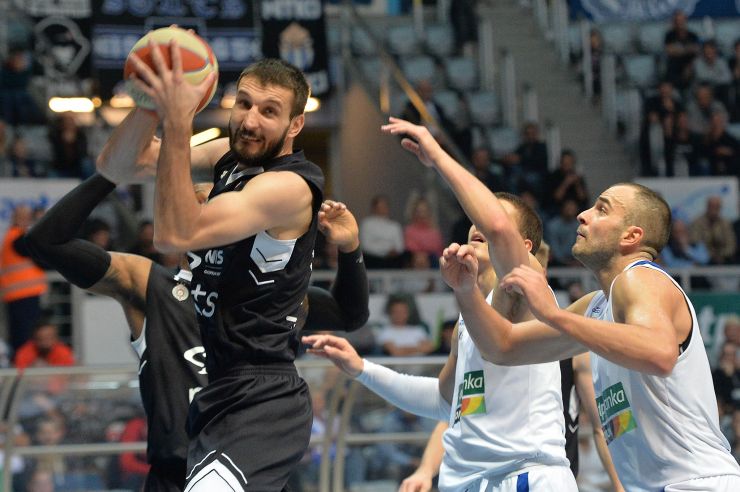 Stefan Bircevic (Photo: Zadar/Zvonko Kucelin)
ABA League Round 6, Saturday, 9.11.2019:
Zadar - PARTIZAN NIS 57:72 (14:18, 16:27, 16:17, 11:10)
Game recap: Partizan NIS have celebrated their fourth win of the ABA League season and the black and white have done it in a tough away game against Zadar in Višnjik in front of a nicely filled arena and in a great and loud atmosphere, created by home fans. This way, Partizan NIS stay in the race for a Playoffs spot. On the other side, this is the sixth defeat of the ABA League season for Zadar, which remain the only winless team this season in the regional competition.
Key moments: After first quarter, the margin between the two sides was still only four points (14:18), but Partizan NIS took absolute control of the clash in the beginning of the second quarter and when Marcus Paige scored a three-pointer in the the fourteenth minute of the game, the lead of the black and white became double-digit (16:26). As it turned out, the hosts did not manage to return into the battle for the win anymore until the end.
Man of the match: Marcus Paige was the floor general once more for Partizan NIS, as he led the black and white in scoring with 14 points, while adding 3 rebounds, 1 steal and a valuation of 13 to his stats. He is our man of the match!
Can't trick the stats: Partizan NIS had a 2-point shot percentage of 56.5 (13/23), while Zadar had only 35.3% (12/34). That's what turned the game their way.