Zadar stun Crvena zvezda mts
Sunday, 15. December 2019 at 17:59
Zadar have defeated Crvena zvezda mts for the first time since 2012!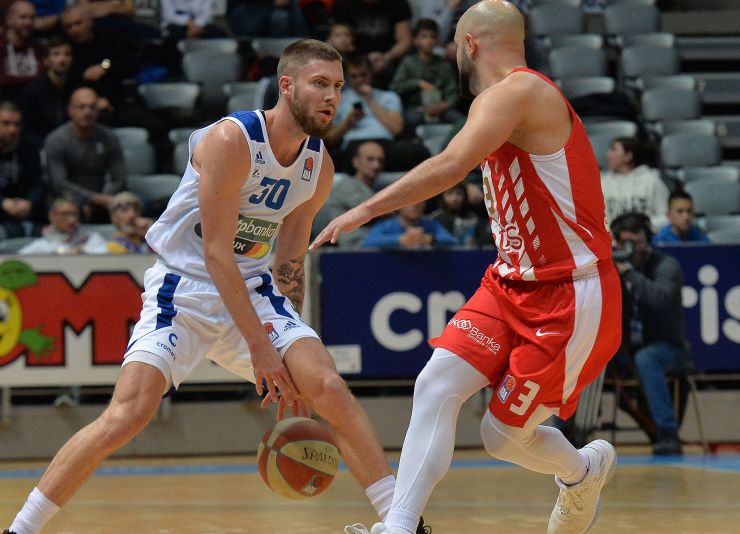 Dominik Mavra (Photo: Zadar/Zvonko Kucelin)
ABA League Round 11, Sunday, 15.12.2019:
ZADAR - Crvena zvezda mts 78:76 (14:20, 29:20, 17:18, 18:18)
Game recap: Zadar have finally managed to break their 7-year long losing streak against Crvena zvezda mts! Zadar's troops defeated the Belgrade side this Sunday evening in a thrilling game in Krešimir Ćosić Hall. Bryon Allen led the hosts toward this huge win with 22 points, Ive Ivanov added 12 points and 11 rebounds, while Dominik Mavra scored 18 points, including the crucial 2-pointer on one minute before the end of the match which has brought the win to his team.
Key moments: The score was all tied on one-and-a-half minute before the end of the match – 76:76, when Zadar's head coach Danijel Jusup called for a time-out. His plan was to give the ball to Dominik Mavra and that planned worked out perfectly for the home side. Mavra made the jumper for 78:76, with just a bit over a minute remaning on the game clock.
On the other side of the court Crvena zvezda mts had three chances to take over the lead or at least to tie the score and force overtime, however the visitors missed all of them. Filip Čović missed the two 2-point jumpers, while in the final second Mouhammad Faye missed the 3-pointer and the score remained 78:76 for Zadar.
Man of the match: That would be local hero Ive Ivanov! Zadar's forward fought bravely against Crvena zvezda mts big guys, eventually outplaying every single one of them. He scored 12 points, caught 11 rebounds and had 5 assists, while his overall index rating was 20.
Can't trick the stats: Crvena zvezda mts missed too many 3-point shots. They were 7 out of 30 from downtown… If they had scored just one more they would have won the game.