Another big win for Zadar as they down Budućnost VOLI in Višnjik
Sunday, 22. December 2019 at 20:00
Zadar have grabbed another huge win this season, as they have beaten Budućnost VOLI in the 12th round at home in Krešimir Ćosić Arena in Zadar.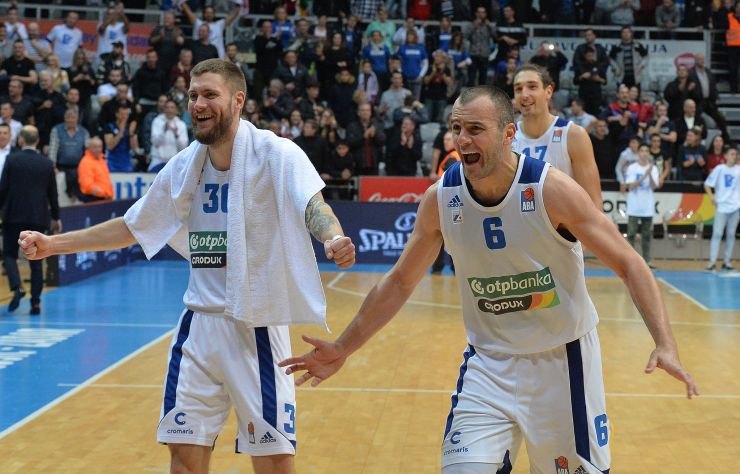 Dominik Mavra, Ive Ivanov (Photo: Zadar/Zvonko Kucelin)
ABA League Round 12, Sunday, 22.12.2019:
ZADAR - Budućnost VOLI 82:75 (21:23, 17:22, 20:14, 24:16)
Game recap: After previously achieving only two victories this season in the ABA League, but big ones against Cedevita Olimpija and Crvena zvezda mts, Zadar have grabbed another huge scalp at home court, as they have prevailed over Budućnost VOLI in the 12th round of the ABA League season in a thrilling atmosphere in Krešimir Ćosić Arena. With this triumph, the Dalmatians have escaped the very bottom of the standings. On the other side, Budućnost VOLI continue the season at first place, but they now share it with Partizan NIS and Cedevita Olimpija, with 9 victories collected apiece.
Key moments: Midway through the last quarter, the two teams were still tied at 68:68, with 6 minutes and a half remaining in the game. However, that's when Bryon Allen scored 8 consecutive points to create an 8:2 run for Zadar and put his team up 76:70. As it turned out, Budućnost VOLI never managed to get in front again after this point in the game.
Man of the match: Bryon Allen did not shine for the majority of the game, but he stepped up when it mattered the most – in the final quarter and in the end he led his team in scoring with 22 points, while adding 3 rebounds and 1 steal to his stats. He is our man of the match.
Can't trick the stats: Zadar have outrebounded Budućnost VOLI 42:33 and that's what proved to be decisive in the end.