Another win for Partizan NIS who defeated Mornar in Belgrade
Saturday, 04. January 2020 at 18:59
The black & whites scored their 6th consecutive win in the 2019/20 ABA League regular season.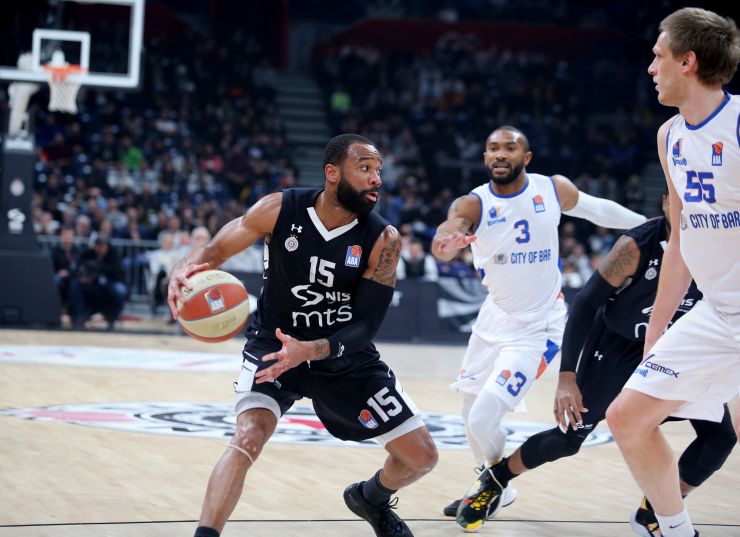 Reginald Redding (Photo: Partizan NIS)
ABA League Round 14, Saturday, 4.1.2020:
PARTIZAN NIS - Mornar 88:75 (17:11, 29:18, 20:24, 22:22)
Game recap: Partizan NIS have defeated Mornar in Round 14 of the 2019/20 ABA League regular season and have therefore extended their winning streak which now stretches to 6 games in the regional championship. Also, Partizan NIS have remained among the teams who are standing at the top of the table with the current overall score of 11-3. On the other side, Mornar suffered their second defeat in a row in the season and they are still outside the Playoffs zone with the overall score of 7-7.
Key moments: Partizan NIS gained the crucial lead already in the first half, as they were up by 46:29 at the halftime. Mornar managed to reduce the gap to a single digit in the 4th quarter, mostly thanks to their top scorer Jacob Pullen, however the visitors have never came any close to really endanger the lead of Partizan NIS.
Man of the match: Marcus Paige was on fire this evening! Partizan NIS guard scored 19 points, including 4 three-pointers, while he missed just two shots for the entire game – 3/3 FG2, 4/6 FG3, 1/1 FT. His overall index rating was 21.
Can't trick the stats: This was another team win for Partizan NIS and the number of assists proves that. The home side made 27 assists in this match, while the visitors had 17.