Team is currently not a member of ABA Liga j.t.d.. Its data may not be updated.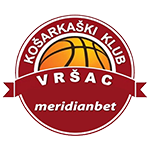 Beginnings
Vršac is one of the oldest basketball clubs in the region. It was founded in 1946, while the club has changed various names throughout the years, depending on which company was sponsoring the team. The most famous of them all is, of course, Hemofarm Vršac, which was the official club's name for 20 years (1992-2012). During that period, Vršac has achieved the greatest results in club's history, including winning the regional league title in the 2004/05 season.
Glory Days
The most valuable trophy in Vršac cupboard is definitely the regional league title, which was won in the 2004/05 season. Back then the team was called Hemofarm, while the boys from Vršac defeated Partizan NIS in the final match by 89:76. Vršac played in one more regional league final match, back in 2007/08 season, but they got defeated by Partizan NIS in that game. Also, this team played in 5 Serbian Championship Finals, however they have never managed to win the trophy. Vršac have also played an important role in the European competitions, as they played in the FIBA Korać Cup Finals in the 2000/01 season, but they got defeated by Unicaja Malaga. Also, Vršac played 3 times in the EuroCup semi-finals and once in the FIBA EuroChallenge Cup Final.
Club Information
| | |
| --- | --- |
| | Omladinski trg 17, 26300 Vršac, Serbia |
| | office@kkvrsac.rs |
| | +381 13 838 057 |
| | +381 13 830 197 |
Administration
| | |
| --- | --- |
| President: | |
| General Manager: | Vladan Majstorović |
Venue
Sport hall Millenium
Omladinski trg 17, 26300 Vršac, Serbia
Trophy Case
Goodyear League
2005
Team Roster, Season 2009/10
Club Statistics
Game Stats
overall
FG2
FG3
FT
Rebs
Blck
Foul
Pts
%
M
A
%
M
A
%
M
A
%
D
O
T
Ass
St
To
Fv
Ag
Cm
Rv
Val
1
Vršac-Radnički
L
72
41.8
18
34
52.9
5
21
23.8
21
26
80.8
22
9
31
11
3
10
1
1
24
23
69
2
Cedevita-Vršac
L
87
51.7
24
40
60
7
20
35
18
24
75
28
4
32
18
5
12
2
1
27
24
93
3
Vršac-Široki
W
83
53.3
29
42
69
3
18
16.7
16
18
88.9
22
8
30
22
10
15
7
0
22
23
108
4
Partizan-Vršac
L
80
43.3
16
37
43.2
10
23
43.5
18
24
75
21
11
32
15
9
14
4
3
28
26
81
5
Vršac-Cibona
L
94
47.1
23
42
54.8
10
28
35.7
18
22
81.8
20
11
31
19
2
10
0
2
30
25
88
6
Helios-Vršac
W
85
54.9
19
31
61.3
9
20
45
20
24
83.3
25
6
31
10
8
13
4
0
23
20
95
7
Vršac-FMP
W
77
45.6
17
29
58.6
9
28
32.1
16
19
84.2
29
3
32
14
8
14
0
1
22
21
81
8
Vršac-Zadar
W
67
39
16
28
57.1
7
31
22.6
14
18
77.8
23
7
30
14
9
9
0
0
20
21
72
9
Bosna-Vršac
W
82
43.8
22
45
48.9
6
19
31.6
20
27
74.1
21
8
29
5
8
8
3
0
18
24
82
10
Vršac-Budućnost
W
89
58.2
22
34
64.7
10
21
47.6
15
24
62.5
22
7
29
16
3
11
1
2
22
21
92
11
C. zvezda-Vršac
W
88
43.3
17
37
45.9
9
23
39.1
27
33
81.8
20
9
29
13
4
8
5
3
26
26
88
12
Vršac-Zagreb
W
74
41.2
20
39
51.3
8
29
27.6
10
14
71.4
28
7
35
16
8
4
1
2
19
18
83
13
Olimpija-Vršac
W
79
34.9
16
45
35.6
6
18
33.3
29
36
80.6
17
14
31
15
9
4
1
3
21
27
86
14
Radnički-Vršac
L
69
37.9
11
29
37.9
11
29
37.9
14
21
66.7
23
9
32
12
7
13
0
1
21
22
64
15
Vršac-Cedevita
W
87
61.8
24
33
72.7
10
22
45.5
9
11
81.8
20
6
26
25
8
10
1
0
16
13
111
16
Široki-Vršac
W
94
57.4
27
46
58.7
8
15
53.3
16
19
84.2
19
10
29
24
12
8
2
2
24
22
120
17
Vršac-Partizan
L
90
53.7
20
40
50
9
14
64.3
23
30
76.7
21
6
27
18
7
8
0
3
27
29
101
18
Cibona-Vršac
W
57
44
16
32
50
6
18
33.3
7
13
53.8
29
10
39
9
3
16
0
2
30
23
49
19
Vršac-Helios
L
75
46.8
17
34
50
5
13
38.5
26
39
66.7
27
9
36
12
5
11
1
0
23
30
87
20
FMP Soccerbet-Vršac
L
75
47.1
18
31
58.1
6
20
30
21
30
70
15
9
24
11
9
14
3
1
26
27
72
21
Zadar-Vršac
W
75
51.9
18
35
51.4
9
17
52.9
12
15
80
24
8
32
15
8
18
1
3
19
17
80
22
Vršac-Bosna
W
80
51.9
22
39
56.4
5
13
38.5
21
25
84
24
7
31
13
7
8
2
2
19
22
97
23
Budućnost-Vršac
L
68
46.3
21
42
50
4
12
33.3
14
17
82.4
17
5
22
11
6
10
3
5
24
24
63
24
Vršac-C. zvezda
W
76
51
18
28
64.3
7
21
33.3
19
29
65.5
22
8
30
20
5
12
2
0
22
27
92
25
Zagreb-Vršac
W
83
49.2
25
42
59.5
6
21
28.6
15
19
78.9
26
9
35
7
4
17
0
2
24
28
78
26
Vršac-Olimpija
W
73
48.1
20
39
51.3
5
13
38.5
18
22
81.8
28
9
37
13
7
11
0
0
22
24
90
27
Partizan-Vršac
L
67
39.1
12
22
54.5
6
24
25
25
31
80.6
23
11
34
8
3
14
3
5
27
30
65
Average:
78.7
47.4
19.6
36.1
54.2
7.3
20.4
35.6
17.9
23.3
76.5
22.8
8.1
31
14.3
6.6
11.2
1.7
1.6
23.2
23.6
84.7
T:27
Total:
2126
47.4
528
975
54.2
196
551
35.6
482
630
76.5
616
220
836
386
177
302
47
44
626
637
2287
Player Stats
overall
FG2
FG3
FT
Rebs
Blck
Foul
GP
Min
Pts
%
M
A
%
M
A
%
M
A
%
D
O
T
Ass
St
To
Fv
Ag
Cm
Rv
+/-
Val
Borisov M.
25
448
146
42.7
30
62
48.4
20
55
36.4
26
29
89.7
44
31
75
20
16
18
0
5
56
32
0
140
Božović M.
4
77
16
42.9
3
6
50
3
8
37.5
1
3
33.3
17
3
20
1
2
4
1
1
11
7
0
21
Despotović P.
9
90
19
33.3
4
11
36.4
3
10
30
2
2
100
4
2
6
4
4
1
0
0
9
6
0
15
Hill K.
5
129
31
46.2
7
12
58.3
5
14
35.7
2
2
100
6
1
7
6
3
7
0
1
8
6
0
23
Jagodnik G.
23
515
232
50
54
96
56.3
26
64
40.6
46
55
83.6
73
32
105
24
26
29
2
5
78
51
0
239
Katić R.
22
335
151
52.1
61
116
52.6
0
1
0
29
50
58
39
23
62
6
5
32
7
5
78
63
0
102
Krstović B.
27
645
236
44
53
109
48.6
21
59
35.6
67
87
77
55
11
66
52
16
36
2
3
73
95
0
241
Lekić S.
1
0
0
0
0
0
0
0
0
0
0
0
0
0
0
0
0
0
0
0
0
0
0
0
0
Mačvan M.
24
701
350
52.9
107
169
63.3
13
58
22.4
97
122
79.5
109
30
139
42
15
33
9
10
41
97
0
436
Marjanović B.
27
398
192
61.1
69
113
61.1
0
0
0
54
76
71.1
95
37
132
7
9
26
21
4
45
59
0
279
Marković S.
25
712
235
43
45
88
51.1
26
77
33.8
67
96
69.8
77
25
102
117
38
59
3
3
71
108
0
347
Obrenović B.
1
0
0
0
0
0
0
0
0
0
0
0
0
0
0
0
0
0
0
0
0
0
0
0
0
Pavković M.
18
466
213
41.7
24
56
42.9
39
95
41.1
48
57
84.2
32
3
35
72
26
20
0
0
45
43
0
227
Petrović U.
12
62
12
31.3
5
11
45.5
0
5
0
2
4
50
5
1
6
2
0
0
2
1
12
6
0
2
Stevenson J.
18
439
156
45.7
28
55
50.9
25
61
41
25
27
92.6
39
14
53
15
8
17
0
3
42
30
0
135
Šutalo M.
23
369
137
46.1
38
71
53.5
15
44
34.1
16
20
80
21
7
28
18
9
20
0
3
57
34
0
80
FG2, FG3 - Field Goals
M - Made
Ag - Against
Rebs - Rebounds
St - Steals
FT - Free Throws
A - Attempted
Foul - Foul
D - Defensive
To - Turnover
Min - Minutes
Blck - Blocks
Cm - Committed
O - Offensive
Val - Index Value
Pts - Points
Fv - in Favoure of
Rv - Received
Ass - Assists
W - Won, L - Lost