KK MZT Skopje Aerodrom, Skopje
Team is currently not a member of ABA Liga j.t.d.. Its data may not be updated.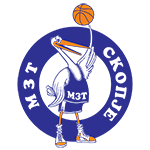 Beginnings
The long lasting tradition of MZT Skopje Aerodrom goes back into the year of 1966, when the club named KK Skopje was founded in the capital of Macedonia. It adopted the current name MZT in 1984 when factory Metalski zavod Tito (MZT) took over the club and built the famous Jane Sandanski arena in part of the town, named Aerodrom.
Glory Days
For the first time, MZT introduced itself on the top level in 1986, when led by legendary head coach Lazar Lečić it reached the top division of Yugoslavian club basketball and appeared there for two seasons. Since independence, the club has emerged as one of the main powers of Macedonian club basketball and has until today won six Macedonian national championship and eight national cup trophies. For several seasons in the 1990's, as well as in the 2013/14 season, it has competed in European competitions like Saporta Cup and Eurocup
Club Information
Administration
| | |
| --- | --- |
| President: | Ognen Hristov |
| General Manager: | Toni Grncarov |
Venue
Sportski centar Jane Sandanski
Bulevar Jane Sandanski 1, 1000 Skopje, Macedonia SHOW MAP
Trophy Case
North Macedonian National Championship:
2012, 2013, 2014, 2015, 2016, 2017, 2019, 2021
North Macedonian National Cup:
1996, 1997, 1999, 2000, 2012, 2013, 2014, 2016, 2018
North Macedonian Supercup:
2016
Team Roster, Season 2017/18
Club Statistics
Game Stats
overall
FG2
FG3
FT
Rebs
Blck
Foul
Pts
%
M
A
%
M
A
%
M
A
%
D
O
T
Ass
St
To
Fv
Ag
Cm
Rv
Val
1
MZT Skopje-Partizan
W
92
50
24
39
61.5
10
29
34.5
14
22
63.6
32
5
37
21
5
11
2
1
22
24
105
2
FMP-MZT Skopje
L
72
37.9
16
32
50
6
26
23.1
22
27
81.5
19
5
24
16
5
14
0
6
19
27
64
3
MZT Skopje-Zadar
L
80
46.9
25
41
61
5
23
21.7
15
21
71.4
21
7
28
18
7
20
1
1
25
21
69
4
Igokea-MZT Skopje
W
108
56.8
29
48
60.4
13
26
50
11
14
78.6
32
14
46
21
4
17
1
1
29
19
117
5
MZT Skopje-Cibona
L
76
48.2
21
37
56.8
6
19
31.6
16
22
72.7
21
3
24
17
7
16
0
1
23
23
72
6
C. zvezda-MZT Skopje
L
73
45.6
21
36
58.3
5
21
23.8
16
24
66.7
14
6
20
16
5
16
0
2
21
21
57
7
MZT Skopje-Mega
L
76
41.4
24
45
53.3
5
25
20
13
23
56.5
20
9
29
17
7
9
3
2
20
20
70
8
Olimpija-MZT Skopje
L
85
47.5
18
32
56.3
11
29
37.9
16
21
76.2
24
7
31
15
4
14
1
1
22
24
86
9
MZT Skopje-Budućnost
L
71
42.9
17
30
56.7
7
26
26.9
16
21
76.2
18
6
24
13
5
16
1
3
18
27
67
10
Cedevita-MZT Skopje
L
65
39.3
15
28
53.6
7
28
25
14
15
93.3
25
5
30
12
3
14
0
2
21
21
59
11
MZT Skopje-Mornar
L
69
53.1
21
34
61.8
5
15
33.3
12
18
66.7
21
6
27
15
6
17
5
2
22
21
73
12
Partizan-MZT Skopje
L
94
55
21
31
67.7
12
29
41.4
16
22
72.7
19
6
25
22
3
10
0
1
23
24
101
13
MZT Skopje-FMP
L
67
37.5
15
31
48.4
6
25
24
19
29
65.5
20
7
27
11
8
13
2
3
28
25
51
14
Zadar-MZT Skopje
L
80
44.6
23
45
51.1
6
20
30
16
17
94.1
26
12
38
17
7
16
3
3
19
23
93
15
MZT Skopje-Igokea
L
68
46.2
17
29
58.6
7
23
30.4
13
15
86.7
20
7
27
18
4
13
2
0
16
16
76
16
Cibona-MZT Skopje
W
92
51.8
15
29
51.7
14
27
51.9
20
23
87
29
5
34
17
3
9
2
1
20
23
111
17
MZT Skopje-C. zvezda
L
58
38.8
15
32
46.9
4
17
23.5
16
20
80
19
8
27
15
2
18
2
3
21
22
50
18
Mega-MZT Skopje
L
77
48.1
16
31
51.6
10
23
43.5
15
21
71.4
17
6
23
20
5
18
2
2
22
21
72
19
MZT Skopje-Olimpija
L
55
36.2
17
40
42.5
4
18
22.2
9
10
90
21
8
29
14
8
18
0
4
19
16
43
20
Budućnost-MZT Skopje
L
62
41
19
42
45.2
6
19
31.6
6
9
66.7
21
5
26
11
3
10
0
1
14
16
54
21
MZT Skopje-Cedevita
L
64
34.7
12
33
36.4
5
16
31.3
25
30
83.3
25
9
34
14
4
15
0
4
19
23
64
22
Mornar-MZT Skopje
L
75
41.2
19
44
43.2
9
24
37.5
10
15
66.7
23
10
33
12
1
13
4
2
23
22
64
Average:
75.4
44.9
19.1
35.9
53.2
7.4
23.1
32.1
15
20
75.2
22.1
7.1
29.2
16
4.8
14.4
1.4
2.1
21.2
21.8
73.5
T:22
Total:
1659
44.9
420
789
53.2
163
508
32.1
330
439
75.2
487
156
643
352
106
317
31
46
466
479
1618
Player Stats
overall
FG2
FG3
FT
Rebs
Blck
Foul
GP
Min
Pts
%
M
A
%
M
A
%
M
A
%
D
O
T
Ass
St
To
Fv
Ag
Cm
Rv
+/-
Val
Bailey B.
6
115
46
51.4
15
19
78.9
4
18
22.2
4
5
80
13
7
20
4
4
9
0
1
17
6
-6
34
Garcia E.
7
195
78
47.6
23
36
63.9
7
27
25.9
11
14
78.6
12
3
15
43
4
18
0
4
23
22
-51
81
Jansen D.
4
71
29
42.9
6
14
42.9
3
7
42.9
8
12
66.7
11
2
13
5
5
8
0
1
8
9
-2
28
Lalić J.
21
506
277
68.3
108
159
67.9
2
2
100
55
87
63.2
76
45
121
21
5
36
7
6
60
97
-269
343
Majstorović Đ.
14
192
67
50
21
41
51.2
3
7
42.9
16
23
69.6
30
12
42
5
4
21
4
4
40
20
-69
46
Mamuzik R.
1
1
0
0
0
0
0
0
0
0
0
0
0
0
0
0
0
0
0
0
0
0
0
3
0
Maslinko A.
14
181
41
59.3
13
19
68.4
3
8
37.5
6
8
75
21
8
29
8
3
10
4
3
17
7
-117
49
Mavra D.
12
362
142
43.4
30
55
54.5
13
44
29.5
43
51
84.3
43
9
52
75
11
42
0
6
19
62
-131
211
Mekić A.
4
68
12
30
2
5
40
1
5
20
5
6
83.3
6
1
7
4
3
3
0
1
8
4
-32
10
Minchev Y.
14
229
76
45
15
31
48.4
12
29
41.4
10
12
83.3
34
8
42
15
10
19
0
2
17
17
-58
87
Mitev M.
0
0
0
0
0
0
0
0
0
0
0
0
0
0
0
0
0
0
0
0
0
0
0
0
0
Nastovski A.
6
63
11
36.4
2
6
33.3
2
5
40
1
2
50
2
1
3
3
1
8
0
1
5
5
-66
1
Pavlićević N.
6
134
52
32.7
10
16
62.5
7
36
19.4
11
16
68.8
11
3
14
22
6
12
1
2
17
22
-46
46
Penov I.
20
209
37
30.6
7
15
46.7
4
21
19
11
17
64.7
23
7
30
7
2
15
3
1
42
17
-179
7
Simonovski M.
9
223
73
37
13
23
56.5
14
50
28
5
6
83.3
18
1
19
11
6
8
0
0
14
7
-41
47
Sokolov D.
7
150
43
34.1
7
25
28
7
16
43.8
8
11
72.7
5
2
7
16
3
6
0
3
8
16
-97
38
Spasojević R.
16
303
136
37.5
32
72
44.4
7
32
21.9
51
56
91.1
35
19
54
15
3
15
3
5
29
43
-162
135
Stajić B.
8
74
26
55.6
8
13
61.5
2
5
40
4
4
100
7
0
7
18
5
5
0
0
15
7
-29
35
Stojanovski D.
22
686
252
44.2
48
97
49.5
36
93
38.7
48
59
81.4
43
17
60
59
18
36
2
2
66
72
-322
242
Trajkovski B.
20
487
261
39
60
143
42
36
103
35
33
50
66
97
11
108
21
13
46
7
4
61
46
-186
178
FG2, FG3 - Field Goals
M - Made
Ag - Against
Rebs - Rebounds
St - Steals
FT - Free Throws
A - Attempted
Foul - Foul
D - Defensive
To - Turnover
Min - Minutes
Blck - Blocks
Cm - Committed
O - Offensive
Val - Index Value
Pts - Points
Fv - in Favoure of
Rv - Received
Ass - Assists
W - Won, L - Lost