Team is currently not a member of ABA Liga j.t.d.. Its data may not be updated.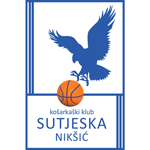 Beginnings
: In 1848 at the football field of FK Sutjeska, the first basketball court in Nikšić was build and not long after KK Sutjeska was established. Vojislav Spasojević introduced the basic elements of basketball to young Nikšić people. Immediately afterwards Vule Vulaković started coaching the team, with the help of Crvena Zvezda player Dragan Jakšić. In 1953 the united league began and in 1962, Sutjeska won the Montenegrin champion without a single defeat. However, between 1955 and 1974 club changed its name several times – Nikšić, Partizan, Mladost and finally Sutjeska again.
Glory Days
: The only trophy the club has won so far came in 2013 when they have lifted the Montenegrin National Cup trophy. However, there was another peak worth mentioning, as in 2015/16 season, Sutjeska became ABA League member for the first time.
Club Information
Administration
| | |
| --- | --- |
| President: | Živko Kecojević |
| General Manager: | |
Venue
Dvorana sportskog centra Nikšić
Njegoševa 1, 81400 Nikšić, Montenegro SHOW MAP
Trophy Case
Montenegrin Cup
2013
Team Roster, Season 2020/21
| # | Name | Position | Height | Date of Birth | Nationality |
| --- | --- | --- | --- | --- | --- |
Club Statistics
Game Stats
overall
FG2
FG3
FT
Rebs
Blck
Foul
Pts
%
M
A
%
M
A
%
M
A
%
D
O
T
Ass
St
To
Fv
Ag
Cm
Rv
Val
FG2, FG3 - Field Goals
M - Made
Ag - Against
Rebs - Rebounds
St - Steals
FT - Free Throws
A - Attempted
Foul - Foul
D - Defensive
To - Turnover
Min - Minutes
Blck - Blocks
Cm - Committed
O - Offensive
Val - Index Value
Pts - Points
Fv - in Favoure of
Rv - Received
Ass - Assists
W - Won, L - Lost