Team is currently not a member of ABA Liga j.t.d.. Its data may not be updated.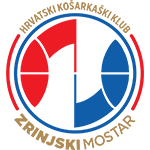 Beginnings
: In 1992, several local basketball enthusiasts from Mostar have established the basketball club Zrinjski. The club played its first ever game in Dubrovnik and the club has also began its competition in the lower ranks of the Croatian national championship, until 1994 when they have started to compete in the BiH national championship.
Glory Days
: Since the club has started competing in Bosnia and Herzegovina league competitions, the club has four times participated in BiH national championship semi-finals and just as many times at the final four tournaments of BiH national cup. In the 2017/18 season, the club has for the first time become a member of ABA League second division, which is their first time to compete in the regional competition.
Club Information
Administration
| | |
| --- | --- |
| President: | Dalibor Miloš |
| General Manager: | Vedran Odak |
Venue
Bijeli Brijeg
Bleiburških žrtava 35, 88000 Mostar SHOW MAP
Trophy Case
BiH Championship:
2018
Team Roster, Season 2018/19
| # | Name | Position | Height | Date of Birth | Nationality |
| --- | --- | --- | --- | --- | --- |
Club Statistics
Game Stats
overall
FG2
FG3
FT
Rebs
Blck
Foul
Pts
%
M
A
%
M
A
%
M
A
%
D
O
T
Ass
St
To
Fv
Ag
Cm
Rv
Val
FG2, FG3 - Field Goals
M - Made
Ag - Against
Rebs - Rebounds
St - Steals
FT - Free Throws
A - Attempted
Foul - Foul
D - Defensive
To - Turnover
Min - Minutes
Blck - Blocks
Cm - Committed
O - Offensive
Val - Index Value
Pts - Points
Fv - in Favoure of
Rv - Received
Ass - Assists
W - Won, L - Lost