KK Koper Primorska, Koper
Team is currently not a member of ABA Liga j.t.d.. Its data may not be updated.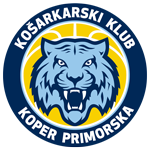 Beginnings
BC Sixt Primorska was founded in 2016 as a cooperation of BC Lastovka Domžale with senior team, and BC Koš Koper with youth basketball teams. The team finished 7th in its first season in Slovenian National Championship. In 2019 the club changed its name to Koper Primorska, as the two clubs have officially merged. Aspiration grow bigger each year, as the club wants to bring quality basketball to all the fans in Primorska Region of Slovenia.
Glory Days
Already in its second season, Sixt Primorska has demonstrated its high ambitions by qualifying for the second division of the flagship club competition of regional basketball, the ABA League 2 and therefore became one of the main pillars of Slovenian club basketball, with its presence on the international stage. The third season (2018/19) has been the best so far in club's history. Sixt Primorska have won all the competitions in which they participated in - Slovenian Super Cup, Slovenian Cup, ABA League 2 and Slovenian Championship. Winning four titles in one season was an incredible achievement, one that only a few European basketball giants have done in the past. By winning the 2018/19 ABA League 2 championship, Sixt Primorska have made it to the elite division. For the first time in club's history they have qualified for ABA League 1.
Club Information
Administration
| | |
| --- | --- |
| President: | Matjaž Hrabar |
| General Manager: | |
Venue
Arena Bonifika
Cesta Zore Perello Godina 3, 6000 Koper SHOW MAP
Trophy Case
ABA League 2:
2019
Slovenian National Championship:
2019
Slovenian National Cup:
2018, 2019, 2020
Slovenian Super Cup:
2018, 2019
Team Roster, Season 2017/18
| # | Name | Position | Height | Date of Birth | Nationality |
| --- | --- | --- | --- | --- | --- |
Club Statistics
Game Stats
overall
FG2
FG3
FT
Rebs
Blck
Foul
Pts
%
M
A
%
M
A
%
M
A
%
D
O
T
Ass
St
To
Fv
Ag
Cm
Rv
Val
FG2, FG3 - Field Goals
M - Made
Ag - Against
Rebs - Rebounds
St - Steals
FT - Free Throws
A - Attempted
Foul - Foul
D - Defensive
To - Turnover
Min - Minutes
Blck - Blocks
Cm - Committed
O - Offensive
Val - Index Value
Pts - Points
Fv - in Favoure of
Rv - Received
Ass - Assists
W - Won, L - Lost