KK Crvena zvezda Meridianbet, Beograd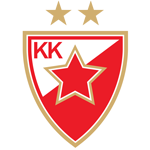 Beginnings
The Belgrade Red and White began their famous history on 4 March 1945 at Kalemegdan, Belgrade, where it also played its first games ever. And since its very beginnings were glorious, it is no wonder that Crvena zvezda Telekom became one of the most well known clubs from this part of Europe and one of the clubs with the greatest fan bases in entire Europe.
Glory Days
The club went on a trophy-winning streak immediately after it has been established and won 10 straight Yugoslavian National championship trophies since 1946. Today, its trophy case includes all domestic trophies of former Yugoslavia, Serbia and Montenegro and Serbia, as well as the ABA League trophy, won in 2015. Zvezda also posesses one European cup trophy – the title of the winner of European Cup Winners Cup from 1974. Since 2013/14 season, Zvezda is a member of Euroleague again and is representing our competition well in the elite European club competition. In 2015, Zvezda became the champion of ABA League for the first time, by beating Cedevita 3:1 in victories in the Finals of Playoffs and afterwards added several more regional league trophies to their cupboard.
Club Information
Administration
| | |
| --- | --- |
| President: | Nebojša Čović |
| General Manager: | Nemanja Vasiljević |
Venue
Dvorana Aleksandar Nikolić
Čarli Čaplina 39, 11000 Beograd, Serbia SHOW MAP
Trophy Case
ABA League j.t.d.
2016, 2017, 2019, 2021, 2022
ABA League
2015
ABA Super Cup
2018
European Cup Winners Cup
1974
National Championship of S&MN
1993, 1994, 1998
National Cup of S&MN
2004, 2006
Serbian Championship
2015, 2016, 2017, 2018, 2019, 2021, 2022, 2023
Serbian National Cup
2013, 2014, 2015, 2017, 2021, 2022, 2023
Yugoslavian National Championship
1946, 1947, 1948, 1949, 1950, 1951, 1952, 1953, 1954, 1955, 1969, 1972
Yugoslavian National Cup
1971, 1973, 1975
Team Roster, Season 2009/10
Club Statistics
Game Stats
overall
FG2
FG3
FT
Rebs
Blck
Foul
Pts
%
M
A
%
M
A
%
M
A
%
D
O
T
Ass
St
To
Fv
Ag
Cm
Rv
Val
1
Budućnost-C. zvezda
L
63
45.1
15
28
53.6
8
23
34.8
9
14
64.3
12
5
17
8
3
13
3
3
20
20
45
2
FMP Soccerbet-C. zvezda
L
81
37.9
19
44
43.2
6
22
27.3
25
31
80.6
22
9
31
13
6
12
3
2
32
28
69
3
C. zvezda-Zagreb
W
89
50
23
44
52.3
8
18
44.4
19
23
82.6
16
13
29
15
8
11
1
1
27
22
90
4
Olimpija-C. zvezda
L
76
52.3
17
31
54.8
6
13
46.2
24
33
72.7
16
5
21
9
6
20
2
4
18
29
71
5
C. zvezda-Radnički
L
100
61.4
29
38
76.3
6
19
31.6
24
33
72.7
18
7
25
15
9
10
3
0
22
28
117
6
Cedevita-C. zvezda
L
74
51.8
22
39
56.4
7
17
41.2
9
11
81.8
14
4
18
11
6
15
2
0
25
21
63
7
C. zvezda-Široki
W
97
58.3
24
37
64.9
11
23
47.8
16
18
88.9
25
4
29
17
7
12
6
0
29
24
112
8
Partizan-C. zvezda
W
76
50
16
36
44.4
9
14
64.3
17
25
68
23
6
29
9
11
19
2
4
31
25
65
9
C. zvezda-Cibona
W
72
47.2
13
29
44.8
12
24
50
10
15
66.7
28
8
36
17
4
13
1
1
15
18
86
10
Helios-C. zvezda
W
72
46.8
18
33
54.5
4
14
28.6
24
30
80
23
2
25
6
9
14
2
3
24
27
69
11
C. zvezda-Vršac
L
86
46.4
21
37
56.8
5
19
26.3
29
32
90.6
23
7
30
12
5
10
3
5
27
26
87
12
Zadar-C. zvezda
L
83
38.5
20
47
42.6
5
18
27.8
28
32
87.5
16
15
31
10
11
12
1
3
23
28
82
13
C. zvezda-Bosna
W
85
54.5
21
31
67.7
9
24
37.5
16
19
84.2
24
8
32
18
6
18
1
0
17
19
98
14
C. zvezda-Budućnost
L
77
44.3
21
39
53.8
6
22
27.3
17
20
85
17
7
24
16
8
8
2
2
25
22
77
15
C. zvezda-FMP
W
87
54.1
26
39
66.7
7
22
31.8
14
21
66.7
17
11
28
17
8
9
2
2
27
20
89
16
Zagreb-C. zvezda
L
80
54.2
22
35
62.9
10
24
41.7
6
10
60
18
6
24
15
8
14
0
0
24
18
76
17
C. zvezda-Olimpija
L
71
45.3
18
30
60
6
23
26.1
17
23
73.9
24
3
27
14
9
14
3
2
23
22
72
18
Radnički-C. zvezda
W
68
42.6
13
28
46.4
7
19
36.8
21
24
87.5
25
6
31
16
9
14
2
1
17
23
87
19
C. zvezda-Cedevita
W
83
52.6
21
31
67.7
9
26
34.6
14
19
73.7
23
8
31
18
9
12
2
0
21
21
99
20
Široki-C. zvezda
L
80
53.6
23
37
62.2
7
19
36.8
13
20
65
14
2
16
21
9
10
1
0
20
25
89
21
C. zvezda-Partizan
L
74
37.5
11
30
36.7
7
18
38.9
31
41
75.6
23
9
32
7
4
16
1
5
29
30
58
22
Cibona-C. zvezda
L
79
49.1
21
33
63.6
7
24
29.2
16
22
72.7
15
11
26
15
9
13
1
4
18
22
82
23
C. zvezda-Helios
W
102
54.5
24
36
66.7
12
30
40
18
20
90
29
11
40
24
13
13
4
2
18
21
139
24
Vršac-C. zvezda
L
70
39.3
16
35
45.7
8
26
30.8
14
19
73.7
17
12
29
15
10
7
0
2
27
21
67
25
C. zvezda-Zadar
W
77
41.9
21
42
50
5
20
25
20
31
64.5
20
9
29
15
7
5
4
4
23
29
82
26
Bosna-C. zvezda
L
67
45.3
21
39
53.8
3
14
21.4
16
19
84.2
21
11
32
13
12
18
4
2
25
24
75
Average:
79.6
48.3
19.8
35.7
55.6
7.3
20.6
35.5
18
23.3
77.2
20.1
7.7
27.8
14.1
7.9
12.8
2.2
2
23.3
23.6
82.5
T:26
Total:
2069
48.3
516
928
55.6
190
535
35.5
467
605
77.2
523
199
722
366
206
332
56
52
607
613
2146
Player Stats
overall
FG2
FG3
FT
Rebs
Blck
Foul
GP
Min
Pts
%
M
A
%
M
A
%
M
A
%
D
O
T
Ass
St
To
Fv
Ag
Cm
Rv
+/-
Val
Bailey M.
8
178
76
42.3
15
34
44.1
7
18
38.9
25
28
89.3
13
3
16
15
9
20
0
2
23
29
0
67
Bakić B.
25
526
167
41.5
27
53
50.9
27
77
35.1
32
40
80
25
8
33
34
26
16
0
3
50
48
0
155
Bjelica N.
20
496
197
45.8
44
77
57.1
16
54
29.6
61
76
80.3
67
23
90
48
32
42
8
2
61
71
0
255
Dragičević S.
0
0
0
0
0
0
0
0
0
0
0
0
0
0
0
0
0
0
0
0
0
0
0
0
0
Dragićević T.
15
454
189
54.3
50
78
64.1
19
49
38.8
32
44
72.7
56
11
67
22
18
39
7
6
47
55
0
196
Kešelj M.
19
407
198
50.4
29
48
60.4
35
79
44.3
35
48
72.9
51
7
58
16
21
25
6
1
41
43
0
199
Kikanović E.
26
561
247
53.2
89
163
54.6
2
8
25
63
80
78.8
41
33
74
23
10
35
10
9
71
72
0
224
Milošević D.
3
3
0
0
0
0
0
0
0
0
0
0
0
0
0
0
0
0
0
0
0
0
0
0
0
Milošević M.
5
47
22
66.7
7
10
70
1
2
50
5
8
62.5
6
5
11
0
1
2
0
1
4
8
0
28
Nedović N.
15
118
41
41.9
11
19
57.9
2
12
16.7
13
17
76.5
8
3
11
12
9
9
0
3
22
14
0
31
Radivojević V.
24
606
159
29.7
25
73
34.2
18
72
25
55
70
78.6
46
16
62
78
23
35
4
9
68
82
0
179
Radosavljević L.
11
75
13
33.3
4
9
44.4
1
6
16.7
2
3
66.7
9
3
12
7
3
4
3
1
11
3
0
14
Rondović N.
2
10
7
75
2
2
100
1
2
50
0
0
0
4
1
5
1
0
0
0
0
2
1
0
11
Stević O.
24
457
169
61.9
69
110
62.7
1
3
33.3
28
42
66.7
58
35
93
14
15
20
8
7
51
44
0
208
Štimac V.
26
362
180
56.4
70
118
59.3
5
15
33.3
25
46
54.3
61
29
90
14
9
18
8
3
57
50
0
194
Taylor M.
14
291
129
40
25
47
53.2
13
48
27.1
40
49
81.6
30
7
37
33
16
35
2
0
46
47
0
117
Videnov F.
20
550
275
51.4
49
87
56.3
42
90
46.7
51
54
94.4
48
15
63
49
14
32
0
5
53
46
0
268
FG2, FG3 - Field Goals
M - Made
Ag - Against
Rebs - Rebounds
St - Steals
FT - Free Throws
A - Attempted
Foul - Foul
D - Defensive
To - Turnover
Min - Minutes
Blck - Blocks
Cm - Committed
O - Offensive
Val - Index Value
Pts - Points
Fv - in Favoure of
Rv - Received
Ass - Assists
W - Won, L - Lost